In collaboration with Douglas W. Miller Productions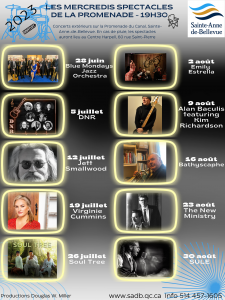 June 28 – Blue Mondays Jazz Orchestra
The Blue Mondays Jazz Orchestra was established with a mission to introduce and share the love of Big Band Jazz music with today's audiences. Whether you are new to the Big Band genre or a lifelong fan, you will be captivated by their swinging arrangements, complex rhythms, lush harmonies and soulful vocals.
July 5- DNR
Get up and dance. Or sit back and groove. A mix of old and new Rock, Pop and R & B songs, with explosive harmonies and an amazing group of musicians. You don't want to miss this!
July 12 – Jeff Smallwood
International artist and singer-songwriter Jeff Smallwood has traveled to many countries to perform his critically acclaimed CDs. His performances are an irresistible blend of heartwarming stories and captivating musical mastery.  Jeff is an in-demand multi-instrumentalist who has worked with many artists including Roch Voisine, James Taylor, Bryan Adams and Celine Dion.
July 19 – Virginie Cummins
She's been the back-up singer for thirteen years at the popular french TV variety show "En direct de l'Univers". With both parents originally from Ste-Anne's, she will sing with fellow musicians a mixture of jazz, pop, folk and country.
July 26 – Soul Tree
Dorian Sherwood is one of Canada's most talented R & B vocalists. He has had the pleasure of performing with such artists as Céline Dion, Chaka Khan, Robert Palmer and Corey Hart, to name a few. His career has taken him all over the world and he continues to WOW audiences everywhere.
August 2 – Emily Estrella
In collaboration with a group of veteran instrumentalists, singer and bandleader Emily Estrella has a sultry, 'old soul' voice that evokes the ghosts of a previous century. Charismatic and joyous,You will be tapping your toes to the robust rhythms as they share their contagious repertoire of traditional and exceptional, acoustic New Orleans Jazz and Blues
August 9 – Alan Baculis (featuring Kim Richardson)
Electric bass master Alan Baculis brings Juno-award-winning vocalist Kim Richardson together with some of Montreal's finest musicians for a soulful evening of old and new favourites.
August 16 – Bathyscaphe
The group Bathyscaphe, founded by Ivanhoe Jolicoeur in 2001, is a sextet composed of three brass and a rhythm section. With original music composed and arranged by Ivanhoe, the group has released two albums, with a new release due next fall. Bathyscaphe has played at the Fest-Jazz Mt-Tremblant, L'Off Festival de Jazz de Montreal and the Jazz Festival of Québec.
August 23 – The New Ministry
The New Ministry, featuring vocalists Bud Rice and Luke Gossage, is a group of six musicians who play classic 70's songs as well as funk and R & B. The New Ministry is a band that will make you dance!
August 30 – Sule
An engaging and dynamic artist, Sule creates a surprising and unpredictable fusion of musical styles.It's countrified, folk rock with a contemporary feel, founded in the blues and imbued with soul. Live or in studio, Sule is an act to watch.